BIOGRAPHY
Born: April 21, 1915
Chihuahua, Mexico
Deceased: June 3, 2001
Birth name: Antonio Rudolfo Oaxaca Quinn
Height: 6' 2" (1.88 m)
Spouse:
Kathy Benvin (1997 - 3 June 2001) (his death) 2 children
Iolanda Addolori (2 January 1966 - 19 August 1997) (divorced) 3 children
Katherine DeMille (3 October 1937 - 21 January 1965) (divorced) 4 children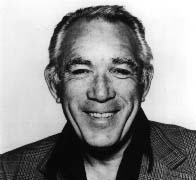 Born into an impoverished environment in Mexico, Anthony Quinn's family moved to East L.A. in search of work and a better quality of life. Quinn spent his boyhood years helping support his family by doing odd jobs such as: a butcher, boxer, street corner preacher, and a slaughterhouse worker. It was during those long hours of back-breaking work that he dreamed of becoming Napolean, Michelangelo, Shakespeare, Martin Luther, and Jack Dempsey all rolled into one.
Living only five miles from Hollywood, the six-foot Quinn used to draw portraits of stars, and would then send them to the star in the hopes of making a few dollars.
Anthony Quinn's next artistic venture and success came at age eleven when he won a California state-wide sculpture competition for his entry of Abraham Lincoln. A few years later, Anthony was granted a scholarship to study architecture with Frank Lloyd Wright. They developed a close personal relationship, linked by the common desire to leave their mark on society. In fact, it was Wright who paid for the young Quinn to have surgery to correct a speech impediment. It was also Wright who suggested that Quinn take acting lessons in order to help re-train his tongue. Wright recalled years later, having seen the young Quinn perform on stage, that he knew Anthony would never return to architecture again.

Though he began acting in the mid-30s playing mostly bad guys and ethnic stereotypes, he rose above what could have been a lifetime of minor supporting roles to become one of Hollywood's most beloved stars.
By 1947, he was a veteran of over fifty films, but he was still not a major star. So he returned to the theatre, where for three years he found success on Broadway, in such roles as Stanley Kowalski in 'A Streetcar Named Desire'.
Anthony Quinn probably holds the record for playing a wider variety of ethnic characters during his career than any other actor. With a Mexican and Irish background (thus his last name, from his half-Irish father), he played Greeks, Italians, Native Americans, Filipinos, etc., in addition to Mexicans.

He won Best Supporting Actor Oscars for Viva Zapata! (1952) and Lust for Life (1956), and made over 150 films that we know of. He is rumored to have appeared in many more, in both Hollywood and in Italy, where he was popular after starring in Fellini's La Strada (1954). He also appeared on Broadway, including the role of Stanley Kowalski in A Streetcar Named Desire.
Perhaps his most famous role was that of Alexis Zorbas in Zorba the Greek (1964), for which he received an Oscar nomination for Best Actor. That was the odd year in which Rex Harrison won for My Fair Lady, beating out not only Quinn, but Peter O'Toole and Richard Burton (Beckett) and Peter Sellers (Dr. Strangelove), four of the greatest performances in cinema history.

Anthony Quinn died on June 3, 2001, of respiratory failure, at the age of 86, bringing to a close one of the most fascinating careers in motion picture history.

Quinn has fathered thirteen children, and has been married 3 times. He was last married to Kathy Benvin.